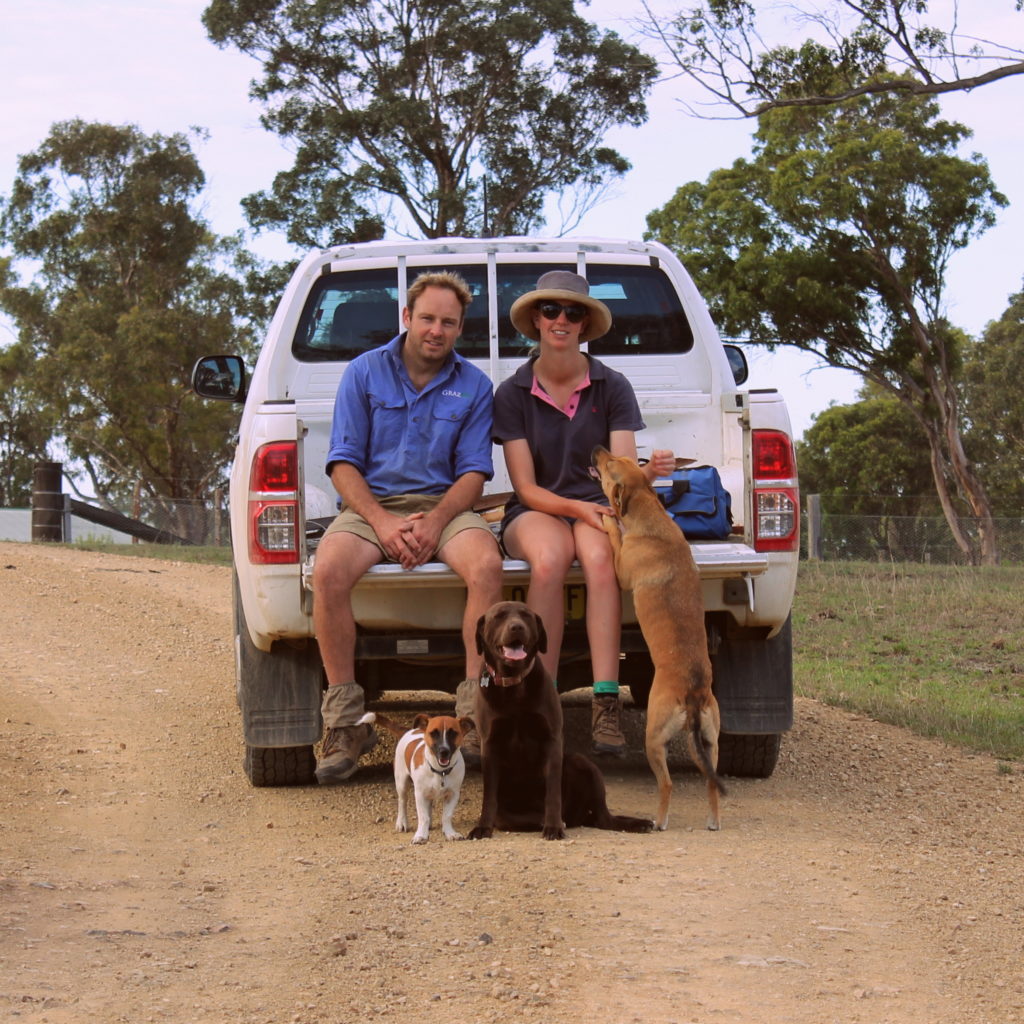 Good Life Beef was established in early 2019 after the drought along Australia's east coast forced New England beef producers Lucy Frizell and Chris Heywood to innovate and change the way they approached the marketing of their beef. After acquiring a small herd of cows late in 2018, the couple decided that they would focus on quality not quantity. They have embarked on a journey of implementing industry best practice in their small herd. Animal welfare is paramount to the operation, as animals live a healthy, well-fed, low stress life
everyday
. Happiness and wellbeing of the animal is Good Life Beef's top priority, as this goes hand in hand with production of the top quality meat that they are renowned for. Read more about our business in this article from The Land newspaper
here
.
Chris and Lucy are a husband and wife duo who live near Armidale, in the NSW Northern Tablelands district of New England. They enjoy farmlife, working with animals, eating and making healthy food and travelling. Both are highly qualified in the agriculture field, Lucy with an honours degree in Rural Science and Chris with over 15 years experience working in the sale of a large range of rural products. To date the pair have successfully built their own off-the-grid tiny home on the farm, which embodies their wish to live an environmentally conscious and low impact life. They grow most of their own vegetables and eat their own meat as a healthier and tastier alternative to store-bought produce. Together, they also run Waterfall Way Accommodation which you can read more about
here
. The Good Life Beef herd originates from cows purchased from the herd of
Wakefield Stud
, the 3000 acre Charolais and Angus Cattle Stud operated by Lucy's parents Greg and Jenny Frizell. The small Good Life Beef herd run on the lush pastures of the Frizell family farm at Wakefield, and on a small block owned by Lucy and Chris near Dorrigo.
As the animal rights movement becomes more and more influential in the livestock farming industry, we have realised that there are many traditional practices that have no place in a progressive animal production business. As invasive as the animal rights movement has been in some cases, we've realised that we agree with the core principles of caring for animals and treating them well, with a sound ethical and scientific basis for every decision we make. In fact, the large majority of farmers do have strong animal welfare principles, but there are many barriers to adoption of higher standards across the industry today. Good Life Beef want to prove that animals can live their best life and be productive as well. Good Life Beef believe in:
Supporting small local farmers and farmer's markets.
Promoting the positives about agriculture, and increasing adoption of best practise in livestock industries across Australia.
Protecting the environment in everything we do.
Promoting a change in consumer thinking, where preventing waste is a high priority.
 Environmental stewardship. For every animal that is born, raised and sold off our farm, we offset emissions by planting one tree. We will also have fully compostable packaging for our beef (no more plastic!) from June 2020 onwards.
Good Life Beef guarantee that:
Our cows are always well-fed, even in drought years.
All our meat is hormone free.
Our cows are all health-checked daily. If animals are sick, they will be treated with the appropriate medication. There is a focus on preventative health measures.
We keep use of antibiotics to an absolute minimum.
We use low-stress stock handling techniques to ensure our animals are calm and relaxed at all times.
Our cows are grass-fed where possible, and if fresh pasture is not available, alternative food sources such as hay or grain will be provided.
Our cows will never be fed a 100% grain diet.
We use polled (not horned) genetics where possible, to avoid animal welfare risks associated with horned animals.
Our meat is tender and flavoursome and our animals live happy lives.
Good Life Beef are not:
Certified Organic. Our belief is that Organic Livestock production

in our part of Australia

is cruel and inefficient as sick animals deteriorate and suffer without medicine that would otherwise help them. We unashamedly use vaccinations to prevent several untreatable diseases that kill cattle, or can be passed on to humans. We will also use antibiotics to treat animals with infections, though antibiotics are only needed in rare cases as Good Life Beef cows tend to have strong immune systems.
A feedlot. Our cows run outside free ranging in paddocks at all times, preferably with an abundance of lush green grass for them to chew on.
Corporate owned. We are a small family-run business, with a focus on welfare of our animals, innovation and quality which cannot be found in mass-produced beef from corporate-owned farms.
Salesmen. We enjoy eating our own flavoursome meat, and believe you will too.
We hope our passion for animal welfare and quality will shine through to you. If you want to know more. Contact us!
An Example of Low Stress Stock Handling